After finding the right vehicle near Pensacola, Crestview, and Fort Walton Beach, it's time to buy. However, what are your options if you have bad credit?
At the World Ford Pensacola Finance Center, we'll help get the finance options you need to drive home in your dream car. Below, we'll go over how we do that, and we'll also give you tips for buying a car with bad credit.
Keep reading to learn about our financial services, and don't hesitate to contact us with any questions you may have.
Bad Credit Auto Finance
At our finance center, we'll get the finance options that are right for you, no matter what your credit history is like. If you have bad credit or even no credit, you'll want to visit us to get the process started.
We'll meet with you one-on-one to give you the personalized care and attention you deserve. We'll go over your budget and credit, and we'll draw up a payment plan that you can work with. Plus, we have a long-standing history with many banks and lenders in the area. Due to our connections, we can get a great auto loan with the right terms for you.
Before visiting our dealership, you can check out the many finance tools that we have on our website. There's a credit application that you can fill out to get pre-approved.
There's also a value your trade tool. All you need is your current Vehicle Identification Number (VIN) and basic information about the car. After filling out this tool, you'll get an idea of how much money you'd get to put towards a new automobile.
Getting a Car Loan with Bad Credit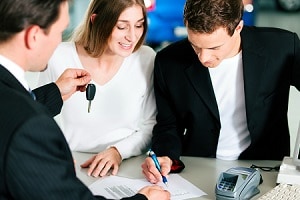 No matter your current credit situation, you can still get the auto loan you need for the car you want. There are actually lots of ways to get an auto loan, even with having bad or no credit.
One example is adjusting the length of a loan. The average car loan lasts three years. By adjusting it to six or seven years, though, you'll be able to lower the monthly payments.
A down payment will also help lower those payments. The more you put down in the beginning, the less you'll need to pay overall. You can also get money from a trade-in to help with the cost.
Another way to get a car loan with bad credit is to get a co-signer who has great credit to help you out. By getting a co-signer, you'll have time to rebuild your credit.
There are many ways to improve your credit, such as paying off past-due accounts. You can also look through your credit report for any possible errors. Or, have a credit institution add positive account histories that may be missing from your report.
The more you clean up your credit before applying for a car loan, the better chance you'll have of getting approved.
Buy Here Pay Here Auto Loans
If you have good credit, bad credit, or no credit, let us help you drive home in your perfect vehicle. Visit our finance center near Pensacola, Crestview, and Fort Walton Beach, and we'll get things started.
Don't wait. Visit us today!