Each individual aspect of a car serves a purpose, and the car battery is one extremely important component of any vehicle. You can learn how to monitor this aspect of your car by reading through our insightful car battery replacement guide. This article is designed to inform drivers near Pensacola, Crestview, and Fort Walton Beach what exactly the car battery does, and how you can tell if it needs to be replaced.
So, if you're eager to learn more about the maintenance of your vehicle, keep reading or contact the helpful staff at World Ford Pensacola.
What is the Purpose of the Car Battery?
The importance of your car's battery cannot be overstated. Without a working battery, your car will be unable to run, which is a real hassle.
The battery's main function is to direct power to the starter motor and the ignition system, while also supplying your engine with the necessary spark to get started. This all occurs once you turn the key in the ignition. However, your battery will continue working with other aspects of your vehicle once you get the engine going.
Think about the various lights that are used in your vehicle. Your cars battery plays a role in everything from the dashboard indicators, to your headlights, to the cabin lights that illuminate the interior. Essentially, any aspect of your car that uses electrical power, likely gets that power from the car battery.
Signs my Car Battery needs to be Replaced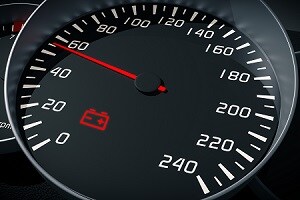 Now that the importance of the car battery is understood, we can discuss signs that suggest your battery needs to be replaced, or at the very least, inspected by a professional technician.
Some of the most prominent indicators include:
Car Doesn't Start Immediately:  If you turn the key in your ignition and you hear the engine trying to turn over, but it's having some trouble or taking longer than normal, this can be a sign that your car battery is faulty.
Odd Smell: The car battery has chemicals inside that begin to smell if your battery has been exposed to excessive heat, cold, or other strenuous conditions. So, if something smells rotten, take a look at your battery, because it may need to be replaced.
Age: car battery's typically last five years. If you know you haven't replaced your battery within the last half decade, you should get it inspected.
Dashboard Warning: If your battery begins to act faulty, but doesn't completely die, you should see a warning indicator on your dashboard telling you to inspect the battery.
Faulty Electrical Components: If you start to see various aspects of your vehicle act strange, such as the radio or the windshield wipers, the root cause could be a faulty battery.
Replace Your Car Battery at Our Service Center
If you notice your car battery is beginning to act funky, schedule your service appointment to bring your vehicle into the service center at World Ford Pensacola. We offer quality repairs, and friendly service so you can get back on the roads around Pensacola, Crestview, and Fort Walton Beach!