The Ford F-150 is a beast on the road and can smoothly transition from the city streets to the off-road trails of the Pensacola and Crestview areas. It's powerful, well-equipped, and durable enough to get any job done-a force to be reckoned with. If you'd like to learn more about this truck, this Buyer's Guide to the Ford F-150 by World Ford Pensacola can help.
This free eBook will give you all the information you need on the Ford F-150, so you can make the most well-informed buying decision. After reading through this guide, you'll become an expert in all things F-150 since you'll learn about the following topics: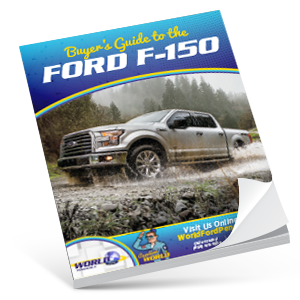 Power, performance, and towing capabilities
Smart technology and safety options
Standard features in each of the seven trim levels
Optional packages to customize your perfect pickup truck
Not only will you learn something new, but you'll save money, too! Our eBook comes with money-saving coupons so you can drive home in your Ford F-150 while keeping your preferred budget in mind.
The Ford F-150 is sitting at our dealership, waiting for you to get behind the wheel. Get to know it better first by getting your free copy of the Buyer's Guide to the Ford F-150. Don't wait. Download it today!