2020 Ford Escape vs Chevy Equinox

Are you ready to go on an adventure in your next SUV? Then, you need to find the vehicle that suits your driving needs in Pensacola, Crestview, and Fort Walton Beach. In this review, we're comparing the 2020 Ford Escape vs. Chevy Equinox to assist you in making a smart decision about your next car.
These SUVs are ready for the get-up-and-go lifestyle. Continue reading this comparison from World Ford Pensacola and get ready to take the roads in your next family-friendly SUV.
---
Ford Escape vs Chevy Equinox Performance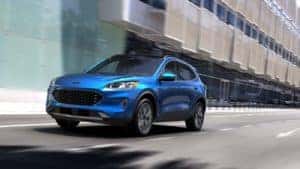 Prepare for a thrilling drive when you take the wheel of the 2020 Ford Escape, which comes standard with a 1.5L EcoBoost® engine with Auto Start-Stop Technology. This efficient system can sense when the engine stops, shutting it down to provide better fuel economy in the process. However, you're still going to enjoy a seamless ride! When you're ready to get moving again, Auto Start-Stop Technology restarts the engine. This entry-level engine makes 181 horsepower and provides an EPA-estimated 27 city/33 highway MPG when properly configured.
The base trim of the Chevy Equinox offers an energetic engine, but this turbocharged option only produces 170 horsepower, which lags behind the Escape. It's also unable to match the Escape in the fuel economy department, as it only receives an EPA-estimated 26 city/31 highway MPG.
Both SUVs do offer more powerful engines, producing around 250 horsepower. However, only the Escape offers a hybrid engine.
---
Ford Escape vs Chevy Equinox Interior Space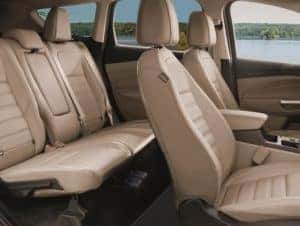 Want to discover the SUV that's right for the entire family? Both models seat five passengers, but the space is used a little differently. The Ford Escape measures in at 104 cubic feet of passenger volume, outpacing the Chevy Equinox. The Equinox checks in with only 103.5 cubic feet of passenger room.
Before choosing a car, cargo space is something that you have to consider. After all, you may be using that space for a trip to the beach, a trip to the grocery store, or for a weekend getaway, and you want to have room for everything. With a maximum of 65.4 cubic feet of cargo space, the 2020 Escape has more room for your belongings than the Equinox, which offers 63.9 cubic feet of cargo volume.
---
No Two Rides Are Ever Alike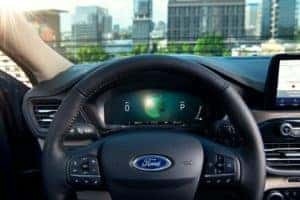 Get behind the wheel of the 2020 Ford Escape and find the selectable driving mode that suits the mood you're in. Improve your driving experience on different road surfaces with the right drive mode. Once the mode has been activated, the electronic stability and traction control systems will be modified without any input required.
For efficient yet capable performance, put your Escape into Eco mode. Throttle response is increased in the Sport mode, which delivers sportier steering and quicker shifts. In Slippery mode, traverse over wet roads, shallow gravel, and sand.
While the Equinox does offer all-wheel drive, it does not offer these selectable driving modes. Choose the Ford Escape to customize your drive!
---
The Ford Escape vs Chevy Equinox Verdict
Now that you know more about what these SUVs are capable of, it's time to take the next step. Pensacola, Crestview, and Fort Walton Beach drivers who have read this 2020 Ford Escape vs. Chevy Equinox vehicle comparison can schedule a test drive with the World Ford Pensacola team.
After all, thanks to its performance capabilities, interior space, and drive modes, the 2020 Ford Escape delivers a better driving experience. We look forward to seeing you at our dealership soon. Contact us online or by phone!