2020 Ford F-150 vs Ram 1500
If you're looking for a full-size pickup truck to power your drives through Pensacola, Crestview, and Fort Walton Beach, you're likely aware that there are many options out there. Which truck is the right fit for your needs, however? You have to consider performance, towing capability, the interior, and much more before buying.
Let the World Ford Pensacola sales team help. We've created this 2020 Ford F-150 vs. Ram 1500 truck comparison to provide you with all the information you need to make an informed decision about that next truck.
Ford F-150 vs Ram 1500: Performance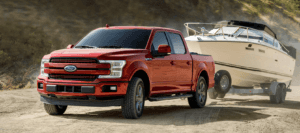 Whether you're using your truck for work duty or it's time for a weekend getaway, you want to have that powerful performance when you press down on the gas pedal. The F-150 boasts a 6-engine lineup, with a 10-speed automatic transmission coming standard on the EcoBoost®, V8, and diesel engine options.
The Ram 1500, which is powerful in its own right, comes standard with a 3.6L V6 engine that makes 305 horsepower and 269 lb-ft of torque. The F-150 entry-level option is also a powerful V6.
What you'll get with the Ford F-150 that you won't get with the Ram 1500 is choice. With six different engines to select from, there are many ways to personalize your drive. On the other side of the ledger, the Ram 1500 only carries three engines. The most powerful F-150 gas engine makes 470 lb-ft of torque, which far outpaces the 410 lb-ft of torque in the most powerful Ram gas engine.
Ford F-150 vs Ram 1500: Towing
When you have the 3.5L EcoBoost® twin-turbo V6 under the hood of your F-150, you'll have an engine that delivers 470 lb-ft of torque. When properly equipped, you'll be able to tow up to 13,200 pounds with the F-150. Hitch up a boat or trailer and get to your destination in style. Sounds like a great way to spend a weekend,
The optional 5.7L HEMI® V8 engine in the Ram 1500 offers a maximum towing capacity of 12,750 pounds. Sure, this is plenty of towing power, but it's not able to match what the F-150 can do.
Both the F-150 and Ram 1500 do come with available towing technology, which includes blind spot protection. You'll know when there's another car lurking in your blind spot, so that next move is a safe one.
Interior Amenities You'll Love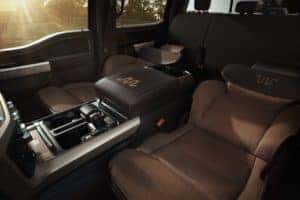 Both trucks can be equipped with welcoming vinyl seats and basic touchscreens, though there are more luxurious leather seating options available on higher trims. Single, extended, and crew cab configurations are offered on the F-150, but the Ram 1500 has removed the single cab offering in its recent redesign, leaving extended and crew cab options to select from.
You'll receive smartphone capability through Apple CarPlay™ and Android Auto™, which help you through the workday or the weekend getaway. Plug a smartphone into the USB port and your favorite phone features and apps will appear right on the screen. From there, make a phone call, choose a new song, or navigate to your destination using your favorite map app.
Learn more about the F-150 interior here!
2020 Ford F-150 vs Ram 1500: The Truck Verdict
Ready to explore Pensacola, Crestview, and Fort Walton Beach? You deserve a truck that's ready for anything. When comparing the 2020 Ford F-150 vs. Ram 1500, the choice is clear. The Ford F-150 is the better choice, thanks to its performance capabilities, towing power, and interior amenities. Visit World Ford Pensacola for a test drive today.