2021 Ford F-150 vs Toyota Tundra
Truck lovers near Pensacola, Crestview, and Fort Walton Beach, Florida, seem to be engaged in an ongoing debate about two particular models, the 2021 Ford F-150 vs. Toyota Tundra. In order to provide some clarity, World Ford Pensacola created this comparison, which will discuss key characteristics like towing capacity, engine specs, and additional performance features.
If you want to learn about the differences between the Ford F-150 vs. Toyota Tundra, you've come to the right place!
Ford F-150 vs Toyota Tundra: Engine Specs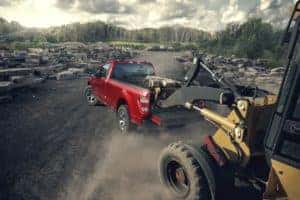 We'll begin by comparing the available engines in each truck. With a diverse lineup of choices in the Ford F-150, it's able to easily outpace the Toyota Tundra. The F-150 offers six different engines under the hood. The two we're looking at offer the most available horsepower and torque.
Up first is the available hybrid engine, which beyond offering great efficiency, also comes with powerful performance. That's because this available 3.5L PowerBoost™ Full Hybrid V6 engine creates 430 horsepower and 570 lb-ft of torque.
Next is the available 3.5L EcoBoost® engine, which makes 400 horsepower and 500 lb-ft of torque. Both engines come mated to a 10-speed automatic transmission, which delivers seamless acceleration and gear changes on every drive.
On the flip side, the Toyota Tundra offers just one engine, which makes 381 horsepower and 401 lb-ft of torque. It's also mated to a 6-speed automatic transmission, which seriously lags behind the 10-speed automatic found in the F-150. Shifts are more rigid and less smooth in the Tundra.
F-150 vs Tundra: Towing Capacity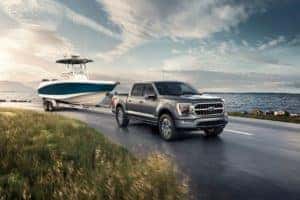 Given the superior performance specs of the Ford F-150, it probably comes as no surprise that this truck outperforms the Toyota Tundra in both the payload and towing capacity departments.
If, for example, you choose the F-150 truck's available 5.0L V8 engine, you'll have a max payload of 3,325 pounds, and 13,000 pounds of towing capacity. That's more than enough for a large trailer or boat. Up the towing capacity with the available 3.5L EcoBoost® V6 engine, which offers a maximum towing capacity of 14,000 pounds.
The Tundra can tow its fair share of equipment, but not as much heavy gear as you can with the 2021 F-150. That's because the Toyota Tundra towing capacity reaches just 10,200 pounds. Its payload capacity also only maxes out at 1,730 pounds.
Unique Features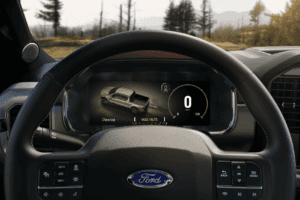 Both the Ford F-150 and Toyota Tundra are designed to make your life easier, whether you spend countless hours on construction sites or need to finally tackle that big weekend project.
As an example, the 2021 F-150 makes it easy to work out of and pack up the bed of your truck with available features like its tailgate step, LED lights, and BoxLink™ system. The Tundra doesn't offer all the same features, so you're limited with what you can add to the bed of this pickup.
Also, the F-150 makes it easy to reverse through crowded worksites with an attached trailer, thanks to the available Pro Trailer Backup Assist™. To use this system, simply turn the knob on your dashboard in the direction you want the trailer to go, and the system will automatically steer your truck while directing the trailer according to your preferences.
The 2021 Tundra unfortunately doesn't have a system that can help in the same capacity when parking your truck.
2021 Ford F-150 vs Toyota Tundra: The Winner's Circle
With its array of engines, towing capability, and added features, the 2021 Ford F-150 is a pickup truck that can do it all!
Now, it's time to see the F-150 up close in Pensacola, FL. At World Ford Pensacola we're proud to serve Crestview and Fort Walton Beach truck enthusiasts, and look forward to seeing you here at our dealership soon.