2021 Ford F-250 vs Chevy Silverado 2500

If you're in the market for a powerful pickup truck that can handle just about anything you task it with, you'll want to consider the Ford F-250 and the Chevy Silverado 2500. These capable vehicles have the muscle needed to tackle even the toughest jobs. They're both available in a variety of configurations that range from a basic workhorse truck to a luxurious everyday driver that also has the power to handle your weekend getaways.
To help you decide which of these trucks is best suited to your unique needs, our team at World Ford Pensacola has put together this comparison of the 2021 Ford F-250 vs. 2021 Chevy 2500 pickup trucks.
Ford F-250 vs Chevy Silverado 2500: Performance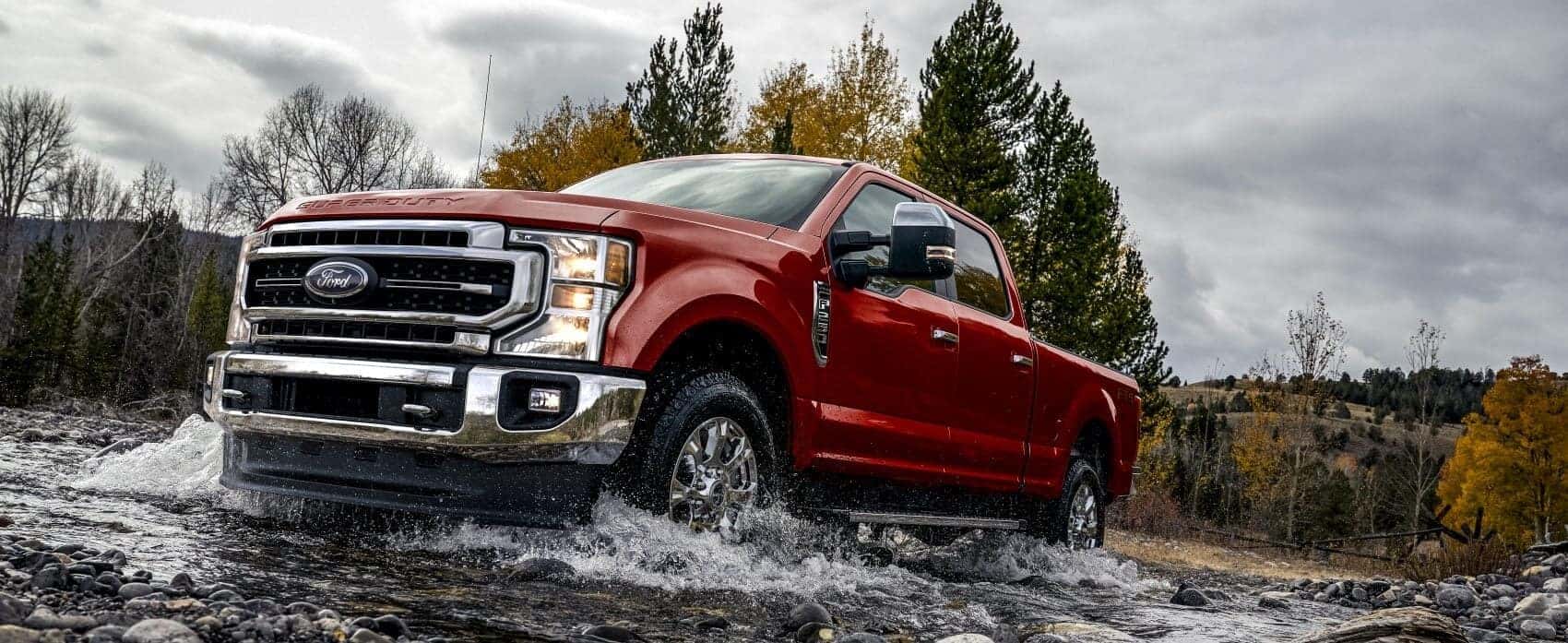 When you really get right down to it, these vehicles can provide a truckload of power. That's good news for you because you're probably looking for a truck that can deliver the way these can. When you compare the 2021 Ford F-250 Super Duty and the Chevy Silverado 2500, the F-250 offers more available power.
Consider torque capability. Torque is the force that helps a vehicle stop, start, and climb hills. It also provides power for towing, something that is vital in a pickup truck.
While the available 6.6L Duramax Turbo-Diesel V8 engine inside the Chevy Silverado 2500 can reach 910 lb-ft of torque, it is trumped by the Ford F-250. That's because the F-250's available 6.7L Power Stroke® Turbo Diesel V8 engine can reach a hefty 1,050 lb-ft of torque for maximum engine exertion.
How can this design attribute impact your everyday driving?
Ford F-250 vs Silverado 2500: Towing
You can tow more with the Ford F-250. When properly equipped, the Ford F-250 is able to haul up to 20,000 pounds, and you won't find that kind of towing capability with the 2021 Silverado 2500. The 2500 maxes out at 18,500 pounds of towing capacity when properly equipped.
The F-250 also features cameras that keep you informed of your surroundings when you are navigating obstacles, like alleyways or tricky terrain, while towing.
To capitalize on this truck's facilitating design, turn to the Ultimate Trailer Tow Camera System with Pro Trailer Backup Assist™. With 180-degree front and side cameras providing a 360-degree view around the Ford F-250, you'll see what makes the F-250 a true towing behemoth.
---
Ford vs Chevy: Truck Cabin Space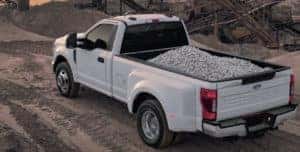 The Ford F-250 Super Duty and the Chevy Silverado 2500 are stocked with a number of features that are helpful to both the driver and any passengers. Both interiors offer seating for up to six people.
Simply put, there's just more room in the Ford F-250. This starts with the space available in the F-250's roomier interior. The Chevy 2500 offers 60.9 inches of front hip room in its standard configuration, while the F-250 presents an edge with 62.5 inches of front hip room while you drive.
This continues for passengers in the rear. The Crew Cab of the 2500 offers 60.24 inches of rear hip room. The F-250, however, is designed with a more spacious 64.7 inches of rear hip room. This creates a more accommodating interior for passengers, like family and co-workers.
How can you experience this beneficial design in person?
2021 Ford F-250 vs Chevy Silverado 2500: Choose Your Pickup
So, which of these muscular pickups will you choose for your jobs around Pensacola, Crestview, and Fort Walton Beach, Florida? They're both fantastic options that are packed with great features, but our team at World Ford Pensacola thinks that drivers will appreciate the Ford F-250's incredible capability to haul heavy loads.
Contact us today to schedule a test drive of the powerful and enthralling Ford F-250!