Ford Maverick vs Hyundai Santa Cruz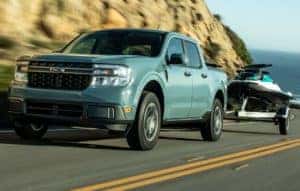 Whoever said you can't have the best of both worlds has never experienced the 2022 Ford Maverick or 2022 Hyundai Santa Cruz. These models are the combination of hard work—a staple with trucks—and the compact comfort you can trust in an SUV. It's often said their unique designs are for people who didn't know they needed a truck, and these models have a lot to offer when it comes to your Pensacola, Crestview, and Fort Walton Beach, FL, travels.
Which is perfect for your needs? We at World Ford Pensacola have crafted this Ford Maverick vs. Hyundai Santa Cruz comparison to help you decide. Let's take a look!
---
The Power to Go the Extra Mile: Performance Capabilities
As a truck driver, you need a model that can keep up with your demanding needs. Whether you're going for a casual day tailgating with friends or loading up for a weekend of exploring the great outdoors, you need a truck that's as flexible as your needs.
When you compare the performance capabilities of the Ford Maverick vs. Hyundai Santa Cruz, you'll be happy to know you get similar performance capabilities with each model.
| | | |
| --- | --- | --- |
| Model | Maverick | Santa Cruz |
| Engine | 2.5L hybrid engine | 2.5L |
| Horsepower | 191 combined HP | 191 HP |
| Torque | 155 lb-ft | 181 lb-ft |
| Drivetrain | FWD, optional AWD | FWD, optional AWD |
The biggest difference between these trucks is in their engines. While both come standard with a 2.5L configuration, the Maverick comes standard with full hybrid capabilities.
What's that mean for you? You can experience higher fuel efficiency—a targeted 40 city MPG for the Maverick, compared to the 21 city MPG of the Santa Cruz—without sacrificing power.
---
Ford Maverick vs Hyundai Santa Cruz Bed Flexibility
One of the great things about driving the 2022 Maverick or Santa Cruz is their flexible bed options. These compact designs ensure everyone inside has plenty of room without adding on extra length. Plus, with features like a multi-position tailgate, you can build a cargo space that fits your needs.
The multi-position tailgate—found on both trucks—allows you to not only open and close your tailgate, but also position it in an in-between configuration. This way, you can adjust your tailgate to fit the wood for your new deck, your kayaks, or whatever else you may need.
While there are several similarities with the bed of the Maverick vs. Santa Cruz, there are some advantages the Maverick takes, such as…
Larger bed size: The Maverick offers a little extra cargo space with an additional half-foot dimension, offering you more room for your gear.
Built-in cubby storage: Speaking of extra room, the Maverick comes with an optional storage cubby, so you can easily grab whatever small equipment you may need.
Charging outlets: From lighting up the campsite to inflating a raft at the beach, the built-in outlets of the Maverick help keep you charged while on the go. Two pre-wired outlets come standard while one outlet is optional with the Santa Cruz.
Both the Maverick and Santa Cruz offer flexible bed designs, but with the extra features offered with the Maverick, this truck makes your commute extra convenient.
---
Ford Maverick vs Hyundai Santa Cruz: The Verdict
When your Pensacola, Crestview, and Fort Walton Beach, Florida, travels require an upgrade, getting behind the wheel of the 2022 Maverick or Santa Cruz is a great option. Both trucks give you the power you need, while offering the perfect amount of space.
Although, after reading through our Ford Maverick vs. Hyundai Santa Cruz comparison, it's clear that those looking for high fuel efficiency and added conveniences may like the extra features offered with the 2022 Maverick.
To learn more about this truck, contact us at World Ford Pensacola to schedule your test drive today!