2021 Mustang vs Camaro
There's nothing like enjoying the high-powered sports car experience in Pensacola, Crestview, and Fort Walton Beach, Florida. When you press down on the accelerator and dart along the highway, you're enjoying a unique driving experience.
Our team here at World Ford Pensacola has put together this 2021 Ford Mustang vs. Chevy Camaro comparison, so you'll know more about two of the sleekest sports cars on the road today.
---
Mustang vs Camaro: Performance

Start your engines! When you start the 2021 Ford Mustang engine, it'll be powerful, regardless of the one you choose to have under the hood.
You may go with the state-of-the-art 2.3L EcoBoost®, which offers up to 310 horsepower and 350 lb-ft of torque. Alternatively, you may be intrigued by the 5.0L Ford Mustang V8. This powerful V8 is known for its legendary performance to the tune of 460 horsepower and 420 lb-ft of torque.
Of course, you're not always just thinking about the engine with your vehicle. Many trims have a 6-speed manual transmission or the available 10-speed automatic transmission, with paddle shifters for an engaging feel. The supercharged 5.2L V8 engine is mated with a 7-speed dual clutch transmission. You'll get that edge-of-your-seat performance when going around tight turns and when traveling out on the highway too.
The standard Camaro 2.0L Turbo engine only offers 275 horsepower and 295 lb-ft of torque. The next engine up, a 3.6L V6, also comes up short compared to the Mustang, as it only generates 335 horsepower and 284 lb-ft of torque.
If you're looking for power and ultra-sleek performance across all trims, the Mustang is the muscle car for you.
Ford Shelby GT500 Bests Camaro ZL1
The most legendary and powerful iteration of the Ford Mustang is the Shelby® GT500®. This Mustang supercharges the V8 engine, delivering 760 horsepower and 625 lb-ft of torque, making it the most powerful production vehicle Ford has ever created. It uses this immense power to absolutely dominate the road on every drive.
When talking about the 2021 Chevy Camaro ZL1, it still holds its reputation as a powerful sports car. The numbers don't lie though. The Mustang is the only one of these two vehicles to produce over 700 horsepower. In fact, the Camaro maxes out at 650 horsepower—well off the pace of the most powerful Ford Mustang.
Mustang vs Camaro: Interior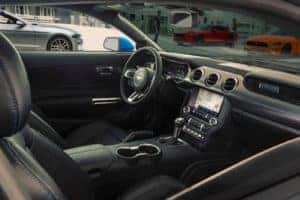 In most of their trims, the Mustang and the Camaro offer room for four passengers. However, this is a sports car, so expect to typically only travel with one other passenger when you're heading out for a drive.
Both vehicles offer infotainment systems designed to keep you informed on every drive, with Apple CarPlay® and Android Auto™ leading the way. With this capability, it's easy to plug your smartphone in and connect to your favorite apps.
Need space? You'll have up to 13.5 cubic feet of cargo space in the Ford Mustang. You don't always get that kind of room in a sports car. To wit, the Camaro only provides about nine cubic feet of trunk space, which makes it difficult to carry all of your important cargo.
---
2021 Ford Mustang vs Chevy Camaro: A Power-Packed Drive Awaits
Through our 2021 Ford Mustang vs. Chevy Camaro comparison, it's easy to see that there's only one winner here when it comes to these sports cars. That's the 2021 Ford Mustang and it's available right here at World Ford Pensacola.
Contact us today to schedule your test drive!
Driving near Pensacola, Crestview, or Fort Walton Beach, FL? It's time to do it in a Mustang.