Ford vs Chevy
It's a tale as old as time: Ford vs. Chevy, two behemoths of the American auto industry. Well, our team at World Ford Pensacola is prepared to show Pensacola, Crestview, and Fort Walton Beach drivers how these brands compare. Read more to learn about the history of these companies and how they compare today.
How It All Began
Ford
The Ford Motor Company first began in 1903 with a factory in Detroit, MI, only making a few cars a day. Over time, the company began to produce several models, including the Model A, Model B, and the Model C. The company truly hit its stride when it produced the Model T following Ford's innovation of the assembly line production system.
As the company became more successful, it produced legendary cars, such the Ford Mustang. Today, Ford produces powerful and engaging consumer cars, maintaining that same ingenuity that fueled the company's founding over 100 years ago.
Chevrolet
The company of Chevrolet began as a co-founded business venture between Swiss racecar driver Louis Chevrolet and William C. Durant. The two opened their first factory in Flint, MI, where you can still find a part of town called "Chevy Commons".
Chevy's goal was to create cars for the average American driver that brought about a sense of excitement due to its association with a famous race car driver. Today, Chevy aims to produce robust vehicles that compete within the American consumer market.
Unique Features
Both brands offer vehicles that serve somewhat equivalent of each other as they have competed for decades. Both manufacturers have sports cars, including the Ford Mustang and the Chevy Camaro. There is, of course, also the competition between the Ford F-150 and the Chevy Silverado 1500.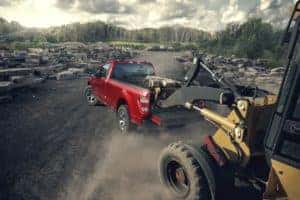 Both companies offer their own unique spin on the now ubiquitous infotainment system. Ford offers the SYNC® system and Chevy offers the Chevrolet Infotainment System. Both systems bring drivers user-friendly navigation on the go as well as Bluetooth® functionality.
Ford also offers an available FordPass™ Connect system that allows you to access vehicle functions from your phone. If you're trying to find your car or you just need turn it on remotely, you can simply use your phone to access easy vehicle functions from a distance.
Looking specifically at Ford again, we find much more fuel-efficient engine technology available with their EcoBoost® lineup of engines. These turbocharged engines are specifically designed to enhance fuel efficiency as well as performance. We don't see many engines like this with Chevy, which focuses much more on providing raw performance with larger engines.
Ford vs Chevy: Which Is for You?
The debate over Ford or Chevy will likely go on for decades to come, but we hope that maybe you've come to a decision for yourself. When Pensacola, Crestview, or Fort Walton Beach drivers want a flexible vehicle for a variety of lifestyles, Ford offers a multitude of vehicles to suit your needs.
Are you interested in exploring more of what Ford has to offer? Explore our inventory at World Ford Pensacola today!